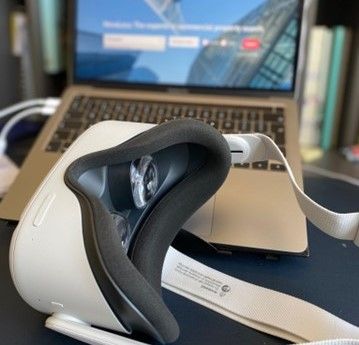 In 2019, on the Zipbox blog, we took a look at how Virtual Reality (VR) was beginning to be used in commercial property sales. Of course since then we've been through a pandemic which has meant rapid change in the way technology is used in the workplace. So we thought it was worth taking another look to see where we are now with VR for business in general and the commercial property sector.
Personal use of VR is expected to see the biggest growth in 2023, but in the business world growth will be led by the retail, healthcare and discrete manufacturing sectors (manufacturing of "finished products that are distinct items capable of being easily counted, touched or seen").
Currently the most popular use of VR in business is for training with simulations, enabling remote collaboration, 3D modeling and testing & prototyping.
Back in 2019 the launch of the Oculus, an affordable standalone VR headset (although a price rise has just been announced), has meant a growing use of apps that allow virtual meetings to take place, such as Horizon Workrooms which allow you to write ideas on a virtual whiteboard, place your actual desk into the virtual world and even pair your computer. Those without a VR headset can also join in via a video call.
With regards to the commercial property sector specifically, the use of virtual video tours has indeed been on the rise with Cushman & Wakefield and Shepherds Commercial being just two companies continuing to roll out their use of these. A useful feature that can be added into immersive video tours is the ability to have detailed information about such things as energy management systems in offices be displayed.
Again in the commercial property sector VR drones, which are drones that can use a pair of Virtual Reality goggles to allow a live feed from the camera while performing fly-throughs, are doing so within warehouse space etc.
It's going to be an interesting couple of years watching this technology become more and more integrated into the business world.